Calvin Grinnell
Mandan and Hidatsa Historian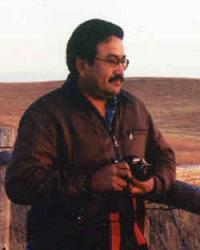 Calvin Grinnell is a historian of Mandan and Hidatsa peoples. He produced and published the YouTube video Coyote Races Buffalo. A telephone interview by Twbtg2 was conducted on December 9, 2008. Calvin understand Hidatsa conversationally, as it is the most prevalent non-English language spoken on his reservation. Calvin is also very good friends with Dr. Raymond Wood, a retired professor from the University of Missouri.
Grinnell, Calvin. Telephone interview. 09 Dec 2008.
Synopsis of Interview
Edit
Explanation of origin of Coyote Races Buffalo story. See Coyote Races Buffalo for more information.
The transaction involved in the storytelling between and elder and child. See Coyote Races Buffalo for more information.
Other information on Mandan and Hidatsa storytelling:

Stories were usually told around a fire
Some longer stories would take several nights to complete. If the storyteller felt that the audience was no longer paying attention or falling asleep, he would ask a question to see if the audience was paying attention. If no one responded, or they did not want to continue they would stop the story instantly and resume telling the narrative the next evening.

Falling asleep during a story was disrespectful to the storyteller, but it still happened.
"Oral Tradition has no competition with cartoons." -- Calvin on why he uses the video as a technique to expose his grandson to the Oral Tradition of their ancestors
"Adding dramatic effect is as relevant today as it was 150 plus years ago." -- On why he used inflection and other verbal techniques in his telling of the story. (See also: Ethnopoetics)
External Links
Edit